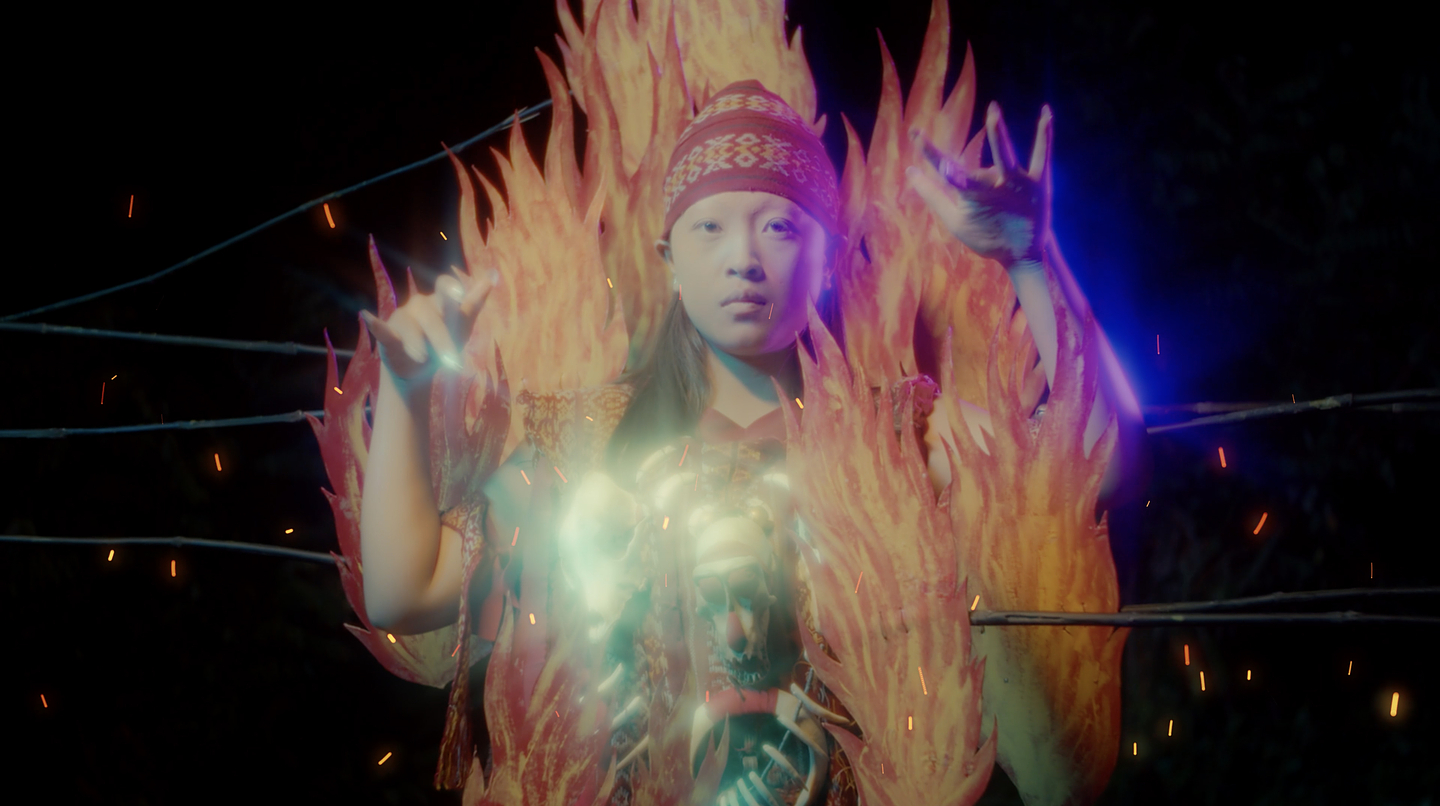 To complement a touring showcase of music from Indonesia represented by the Yes No Wave Music label, Western Front is pleased to present a screening of recent works by Natasha Tontey and Riar Rizaldi. The program of three works — Tontey's Garden Amidst the Flame (2022), and Rizaldi's Tellurian Drama (2020) and Episode 0: Metanoia – Prelude (2023) — will be screened in the Grand Luxe Hall on the hour during regular gallery visiting times.
Curated by Aki Onda and Wok the Rock.
Program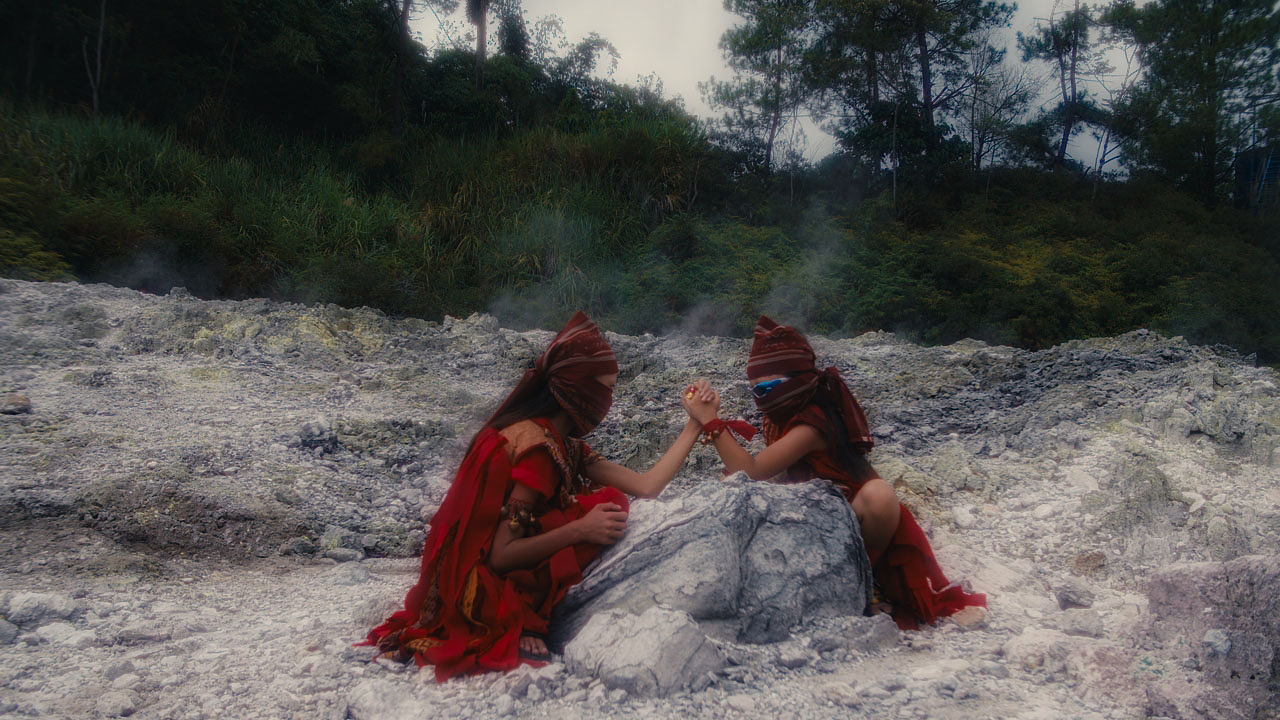 Natasha Tontey
Garden Amidst the Flame (2022)
HD video, 27 min.
Garden Amidst the Flame emerges from Tontey's ongoing research into the ancient knowledge, technologies, and cosmology of the Minahasa, an Indigenous nation in the North Sulawesi province of Indonesia. In this work, Tontey emphasises core Minahasa cultural beliefs in the all-encompassing equilibrium between the human and non-human. Drawing on her experience of karai, a ceremony that grants Minahasan warriors an armour of invincibility, she seeks to establish a queering approach towards gender, youth, and ecology.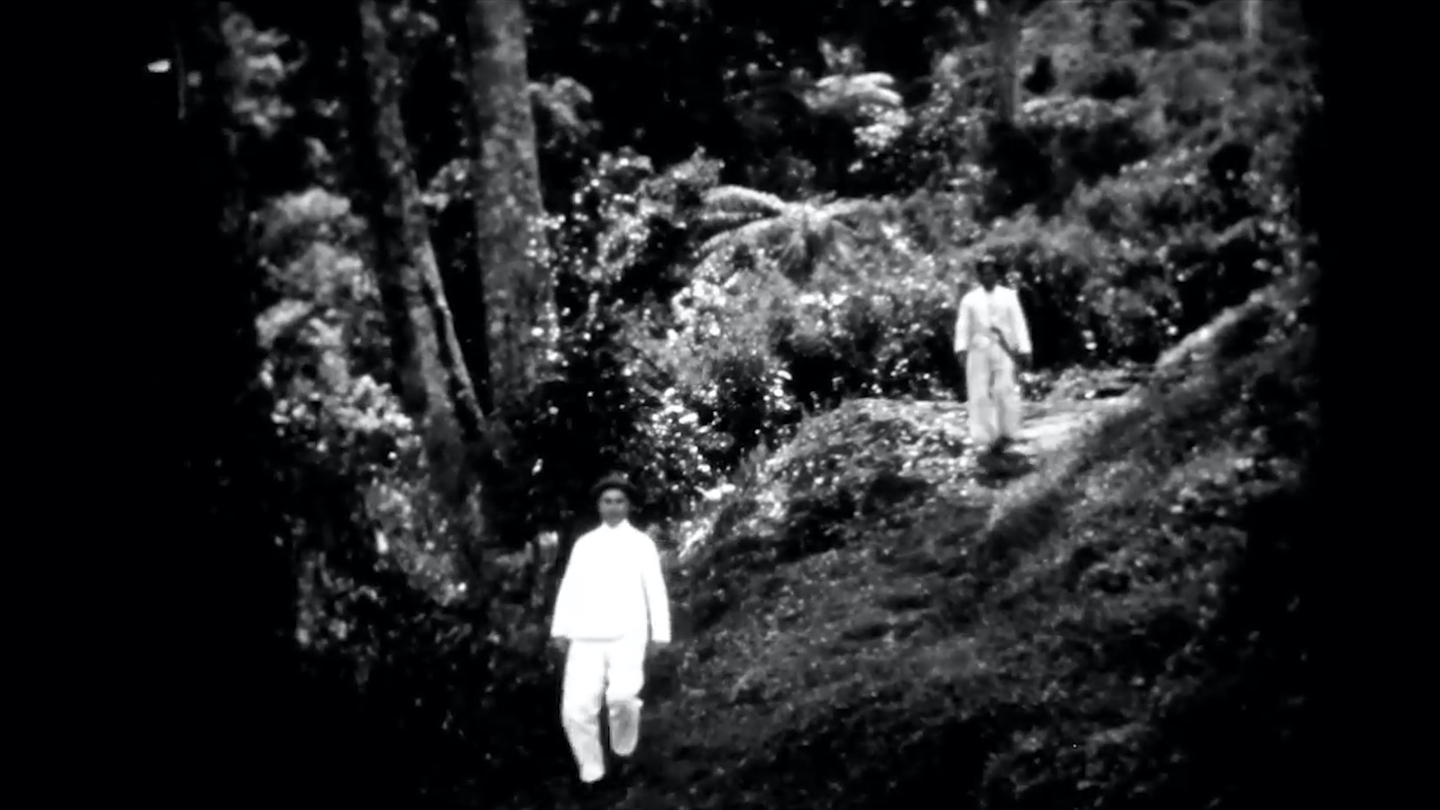 Riar Rizaldi
Tellurian Drama (2020)
digital video, 26 min. 25 sec.
Indonesian with English subtitle
On May 5, 1923, the Dutch colonial government erected a VLF radio telegraphic transmitter in West Java, one of the most powerful arc transmitters ever built, with the mission of projecting airwaves back to the Netherlands. In March 2020, the present-day Indonesian government embarked on its plan to reactivate the ruins of the station as a historic site and tourist attraction. Radio Malabar was originally constructed in an area traditionally known as Parahyang (the abode of hyang). "Hyang" has its roots in indigenous animism, describing either divine or ancestral entities who possess supernatural powers and invisibly inhabit high places such as hills, mountains, and volcanoes. Tellurian Drama explores the living landscape surrounding Mount Papandayan and Mount Puntang, the complex stratovolcano in West Java used as a suspension point for the transmitter. It tracks the story of Radio Malabar's enmeshment with cascading histories of colonial rule, ancient Indigenous spiritual belief, and ecological resistance movements across the 20th and 21st centuries. Examining colonial ruins as an apparatus for geoengineering technologies, Rizaldi's soundtrack composed with Sudanese musician Iman Jimbot, also gives voice to the mountain as a central character in the film's narrative: the mountain as conductor of ancestral presence.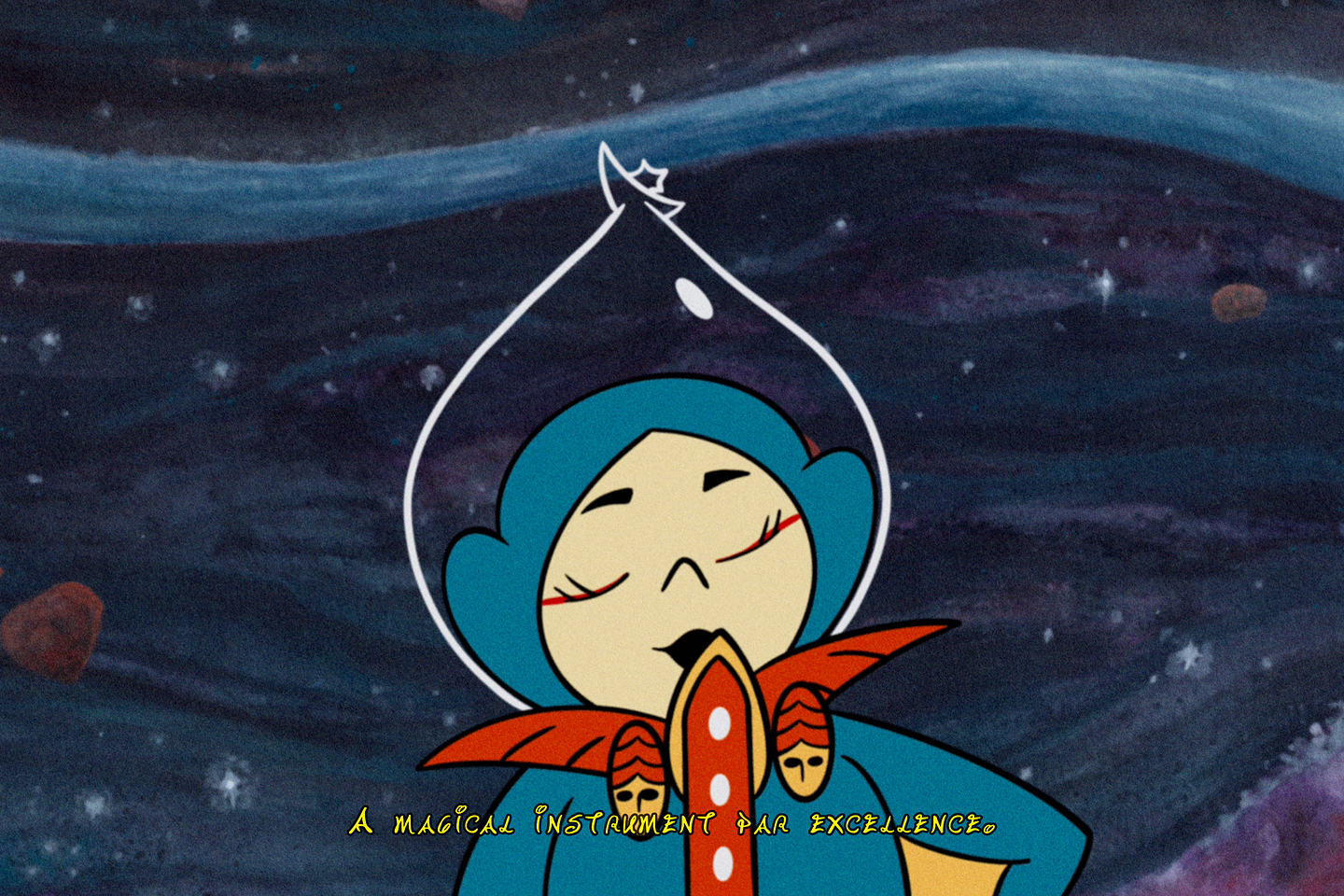 Riar Rizaldi
Episode 0: Metanoia – Prelude (2023)
digital video, 6 min. 4 sec.
Rizaldi's film series Mirage, explore the roots and repercussions of modern science and advanced technology on the social, political, and cultural life of humans and nonhumans in Southeast Asia, through a dialogue between particle physics and ideas about the nature of God in tropical Sufi mysticism. It introduces the life and work of sixteenth-century Sumatran philosopher, poet, and Sufi mystic Hamzah Fansuri. In his writings, Fansuri conjectured that God infiltrates every aspect of the universe, down to the smallest particle, and the universe itself is God's radiating holographic projection on a two-dimensional plane. Toward the end of his life, Fansuri was deemed a heretic and he and his disciples persecuted. His ideas, however, anticipated by several hundred years breakthroughs in particle physics—the notion that the universe is composed of subatomic particles including both matter and antimatter—as well as the holographic principle—the theory that the universe is, in fact, two-dimensional.
The first episode, Episode 0: Metanoia – Prelude, reconfigures and interrelates two parallel modes of inquiry into the nature of reality. Formatted as a short Hanna-Barbera-like animation set in the future, the film stages a conversation between two cosmologists about the presence of God in atoms. Particle physics and Malay-Indonesian Sufi metaphysics are brought together as different expressions of the same human endeavor to grasp the transcendental in the material. The film positions Western science as one methodology among many in a constellation of pluralistic worldviews.
About the Artists
Natasha Tontey is an artist based in Yogyakarta, Indonesia. Her artistic practice predominantly explores the fictional accounts of the history and myths surrounding "manufactured fear." Working across digital animation, performance, and installation, she observes the possibilities of alternative futures projected from outcast entities and beings beyond the perspectives of major institutions. Tontey is a fellow for Human Machine at the Junge Akademie through Akademie der Künste, Berlin.
Riar Rizaldi is an artist and filmmaker born in Bandung, Indonesia. He works predominantly with moving images and sound, both in the black-box of cinema settings and installations within gallery contexts. His artistic practice focuses on the relationship between capital and technology, and labour and nature, as well as worldviews, genre cinema, and theoretical fiction.
About the Curators
Wok The Rock is an artist, curator, music producer, and cultural activist born in Madiun, Indonesia, and based in Yogyakarta, Indonesia. Working across the fields of contemporary art, design, and underground music, Wok's practice focuses on experimenting with collective space. In addition to running the non-profit online label Yes No Wave Music, Wok curates the experimental music concert series Yes No Klub, is a member of the Yogyakarta-based artist collective Ruang MES 56, and is a founder of the Indonesia Netaudio Forum.
Aki Onda is an artist, composer, performer, and curator based in Mito, Japan, and is currently Curator-at-Large at Western Front, Vancouver. Their works are often catalyzed by and structured around memories—personal, collective, and historical. Crossing genres and disciplines, they have been active internationally in art, film, music and performance.
Accessibility
The Grand Luxe Hall is located on the second floor of Western Front, which is accessed by a flight of 26 stairs. Further details about accessibility at Western Front can be found here.
Acknowledgements
Presented in partnership with Artengine, Ottawa; Arts in the Margins, Montréal; Debaser, Ottawa; The Music Gallery, Toronto; Send + Receive Festival, Winnipeg; and Western Front, Vancouver, with the support of the Canada Council for the Arts and the Government of Canada.