Karen Nelson and K.J. Holmes return to Western Front with the reprisal of their duet Swim/Sea/No See, first performed from 1991-93. What does a redux of an improvisation become after 30 years?
Swim/Sea/No See combines two improvisational forms: Contact Improvisation (CI), a duet dance form based on physical touch, momentum, listening, trust and athleticism which emerged in 1972, making this year the 50th anniversary of its inception; and Tuning Scores, an improvisation and composition practice which involves exposing choreographic opinions through calls and actions as the dancers communicate meaning within the improvisation as it is unfolding. Without sacrificing the primal power and reflexive responses of Contact Improvisation's play with gravity, momentum and trust, Holmes and Nelson create a cinema of the body; using editing principles gleaned from Tuning Scores, as well as through constant questionings about musicality and the theater of dance.
Following the performance, Nelson and Holmes will share early video renditions of Contact Improvisation and earlier clips from Swim/Sea/No-See; and engage in an artist talk-back.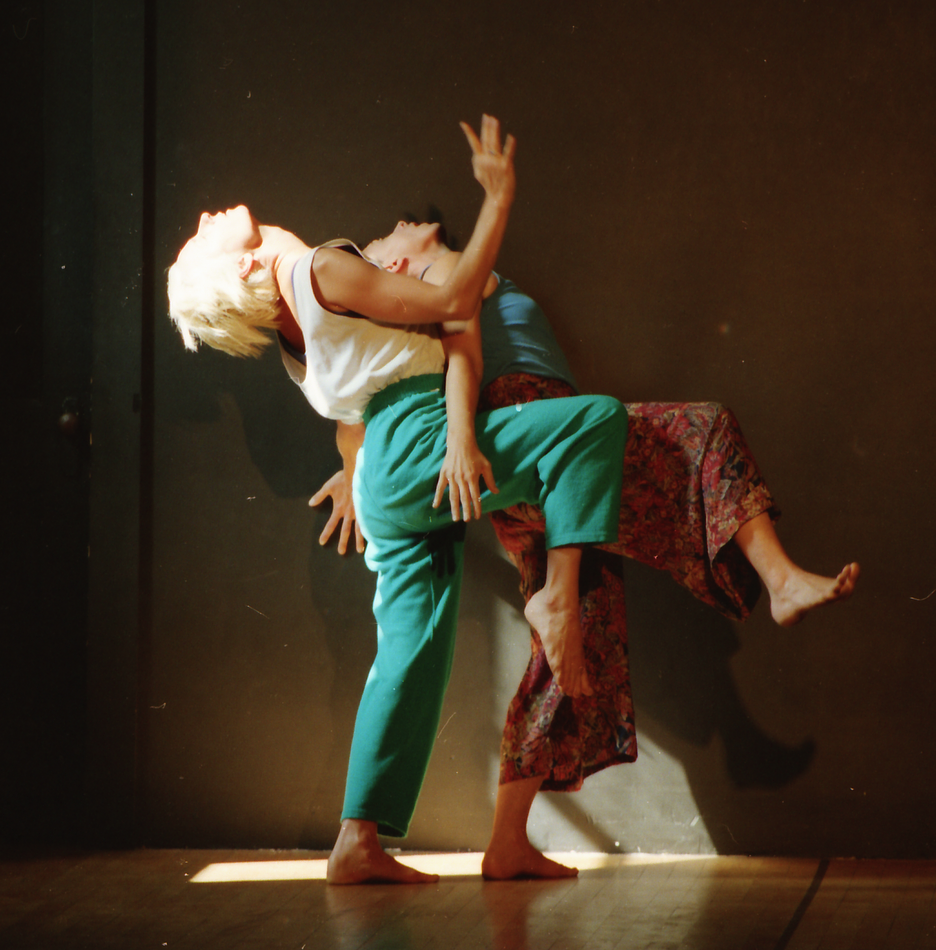 About the Artists
K.J. Holmes is a dance artist, actor, vocalist, writer and teacher based in Brooklyn, New York. She has been practicing Contact Improvisation as process and performance since 1981, studying with the early developers of the form including Steve Paxton, Nancy Stark Smith, and Daniel Lepkoff. An avid improviser and creator of solo/duo and ensemble work, she has also been very influenced by the Tuning Score of Lisa Nelson, Body Mind Centering® and the work of Bonnie Bainbridge Cohen, Ideokinesis with Andre Bernard, Meisner acting work with Terry Knickerbocker, voice and singing with Richard Armstrong, Barbara Maier Gustern, and Samita Sinha, and Simone Forti, among others. Holmes is a certified Yoga teacher as well as a certified Ayurvedic Holistic Health Counselor, and teaches at NYU/Experimental Theatre Wing and Movement Research in NYC.
Karen Nelson is a dancer and performer who has been a mutator of the form Contact Improvisation since 1977. Describing her work as resting playfully within dance improvisation and Buddhist study and practice, she is interested in investigating dominant cultural narratives and re-vers(ion)ing these fictions within her own embodiment and wider community. Practicing a physical-sensation based approach to dancing, she integrates the influence of Material for the Spine (a system for exploring the muscles of the back developed by dancer Steve Paxton) and Tuning Scores (an improvisation practice introduced by Lisa Nelson and developed by the performance group Image Lab whose members include Nelson, K.J. Holmes, Lisa Nelson, and Scott Smith). Nelson is a contributing author to Dancing with Dharma and Contact Quarterly, and co-founder of mixed-ability experiments Dance Ability and Diverse Dance Research Retreat.
Acknowledgements
Presented in partnership with E.D.A.M. (Experimental Dance and Music), and with the support of the Government of Canada.