Western Front is pleased to present a solo exhibition by Rachelle Sawatsky, a multidisciplinary artist based in Vancouver and Los Angeles whose practice spans painting, drawing, ceramics, and writing. This exhibition brings together a new series of brightly coloured abstract paintings and glazed ceramic wall works, which together further the artist's interest in sensory perception, cognition, and signifying systems.
For her series of small format paintings, Pather (2023), Sawatsky has applied a spectrum of fluorescent watercolor, acrylic, oil and flashe paint to canvas in successive layers through a breadth of techniques, including washing, impasto, stenciling, and expressive mark-making. Through this accumulation of details, Sawatsky creates a unique visual lexicon, which she invites the viewer in to study by the intimacy of each paintings' scale. At close proximity, recognizable forms such as stars, love hearts, and dots, appear alongside more ambiguous shapes and fluid elements, with each gesture acting to annotate—to place emphasis, commit to memory, or distill importance. Through this, each painting charts the successive events of its making, and an ongoing transit between sensing, perceiving, and interpreting without definitive end.
Punctuating the installation of paintings on canvas, are new additions to Sawatsky's ongoing series of ceramic wall works Lexica (2014—ongoing). Placed above eye line, these works point outwards, connecting this presentation to Sawatsky's oeuvre (in which these works appear as a recurring motif), and through the form being reminiscent of an asterisk, the typographical symbol commonly used to signal a footnote, omission, or doubt.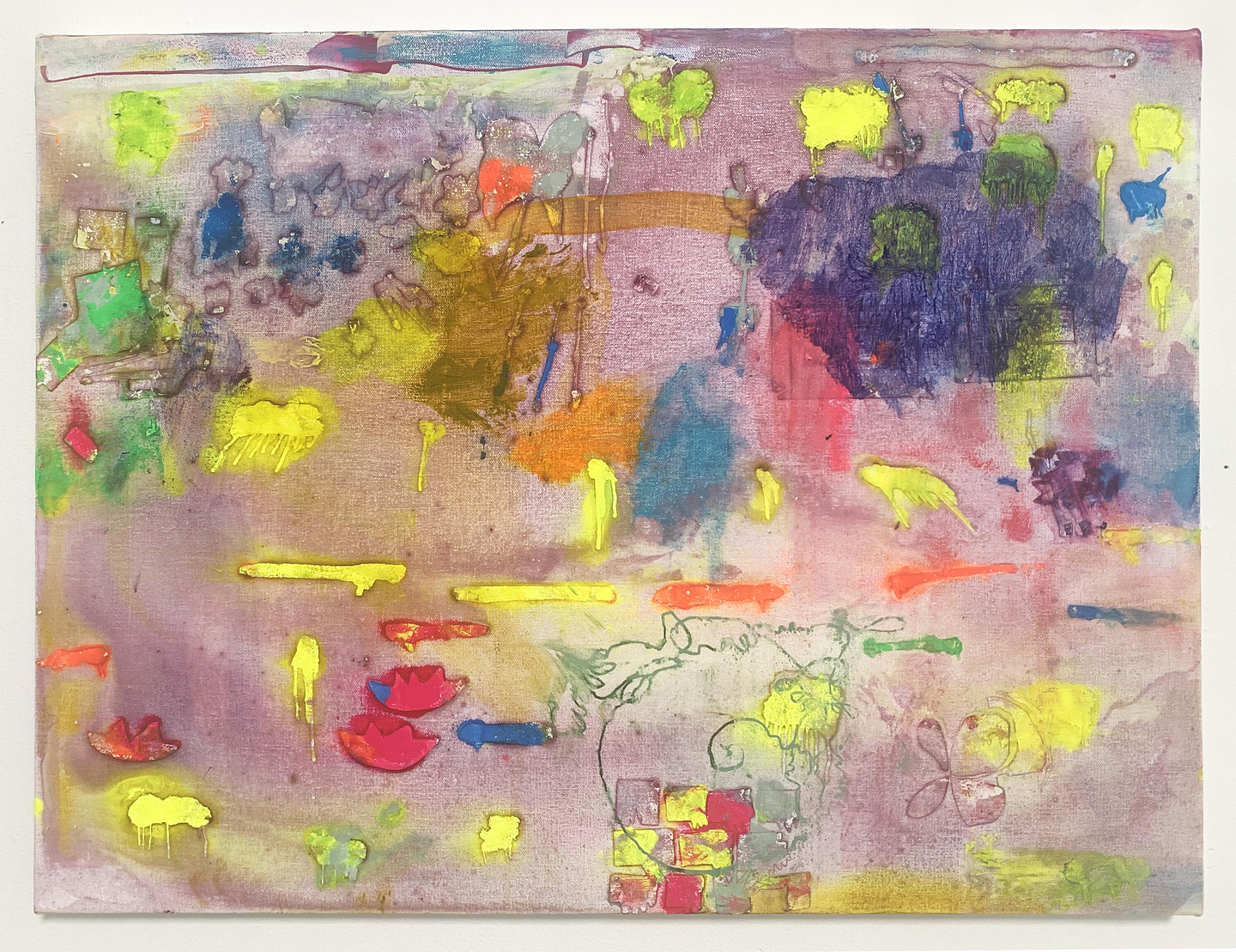 Parallel to the development of Vitals, Sawatsky invited the Vancouver-based musician Alexi Baris to create a new octophonic sound composition to underscore vocabularies shared in paint and sound, such as tone and texture. Produced during a residency at Western Front, Baris' new work Firedamp furthers his interest in psychoacoustics—how the human auditory system perceives various sounds—through the spatial arrangement of a single unique patch on a modular synth. The work will be performed on Sep 22 and 23, 2023.
Curated by Susan Gibb.
About the Artist
Rachelle Sawatsky is an artist and writer based in Los Angeles, United States and Vancouver, Canada. Her practice encompasses painting, ceramics, drawing, and critical and creative writing. She teaches at Emily Carr University of Art + Design.